U-Speeder
The U-Speeder is a Tier 4 ship in the U-Series mod. It has a dual cannon at the front which fires two pulses and a cannon at the back which rapidly fires a low damage pulse. The back cannon's recoil allows this ship to propel itself forward at insane speeds. However agility is a weakness. it can't make tight turns very well, and is purely and offensive-styled ship. You are recommended to start off upgrading either Ship Speed or Energy Regeneration. Damage doesn't affect the rear cannons. However the choice is ultimately yours. This ship is surprisingly tanky and is the predecessor to the U-Afterburn.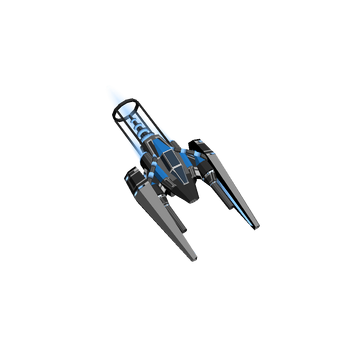 Upgrading damage is viable, as the rear cannon's frequency is left unaffected.
It's a good idea to avoid the U-Arsenal and U-Siege as they are capable of easily taking down the U-Speeder due to its low shield.
If you can survive an attacker's initial blast of damage, the cannons can easily tear chunks off the other ship killing them or at the very least making them pay.
When fully upgraded, the shot pattern is this: 2 shots from front, short pause with rear cannons firing, two more front shots before you are out of energy.
the ships in the miner series are surprisingly fragile to this ship due to their lack of concentrated fire and low agility.
| Type | Energy Per Shot (Min/Max): | Damage (Min/Max): | Velocity (Min/Max): | Mirrored: | Recoil: | Frequency: | Error: | Bullets Spread Angle (Degree(s)): | # Of Lasers: |
| --- | --- | --- | --- | --- | --- | --- | --- | --- | --- |
| Pulse | 120/160 | 60/80 | 190/240 | true | 100 | 2 | 0 | 0 | 1 |
| Type | Energy Per Shot (Min/Max): | Damage (Min/Max): | Velocity (Min/Max): | Mirrored: | Recoil: | Frequency: | Error: | Bullets Spread Angle (Degree(s)): | # Of Lasers: |
| --- | --- | --- | --- | --- | --- | --- | --- | --- | --- |
| Pulse | 20/40 | 20/40 | 150/200 | false | 100 | 10 | 0 | 0 | 1 |